What We Do
We realize and respect how important your time and business are to you.  Thus, Crosse Partners takes a focused approach to investing, doing our homework up front, and committing our resources to close.
Crosse Partners' investment process includes: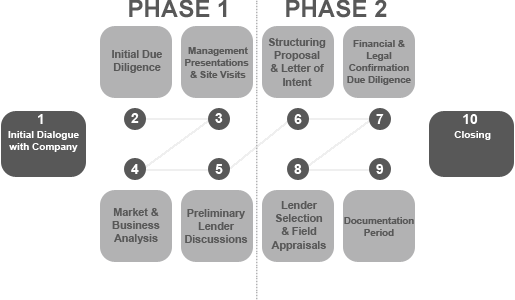 INVESTMENT ORIGINATION
Crosse Partners works closely with intermediaries, including investment bankers and business brokers, as well as accountants, lawyers, consultants, operating executives, individual investors, and other intermediaries to generate deal flow and review investment opportunities.
INVESTMENT SELECTION
Crosse Partners invests in small to middle market companies primarily based in California, however, we will also look at attractive opportunities in Nevada, Arizona and other Western territories. We focus on established and profitable companies operating in the manufacturing, distribution and service sectors.
Other characteristics of companies that Crosse Partners will consider include:
Definable, understandable and scalable business model;
Well developed and growing markets;
Proven products/processes, unique competitive advantages and opportunities to grow both internally and through acquisition;
Operating margins in excess of 10%; and
Viable exit strategies.
We are interested in companies whose future performance is supportable by historical trends and whose products or services are basic and essential, not subject to fashion or rapid technological obsolescence. We prefer to acquire companies that have a clear vision to expand, whose market share can be improved in a concentrated industry, or companies that have, or can reach, a leadership position in a fragmented market.
While the company should have a relatively clean operating record, we may entertain unique situations where there are clearly identifiable problems, a management plan in-place to correct those problems, and evidence of progress.
DUE DILIGENCE AND CLOSE
The pre-closing period sets the tone for a strong, collaborative relationship going-forward. Thus, from the very beginning of our investment process, we take the time to learn about the business with a thorough evaluation and analysis of each investment opportunity. We aim to develop mutually beneficial relationships with prospective sellers as well as their companies' employees, management, and customers and limit disruptions to the business' day-to-day affairs before, during, and after the transaction.
Crosse Partners employs simple and strait-forward capital structures. This simplicity greatly increases the likelihood of completing the transaction and condenses the potential timeline. The lower debt levels, combined with our dedicated equity capital, provide us more flexibility to support and finance the growth requirements of our portfolio companies.
Coming from entrepreneurial families ourselves, we are especially sensitive to the unique set of issues presented by privately-held, family-owned companies and take extraordinary care to work with families. Some issues or special considerations include:

Confidentiality;
Flexible deal structures taking into consideration estate planning and tax issues;
Dependence on shareholders and/or concentration of decision-making;
Shareholders' role "the day after".  We encourage sellers to stay involved on a day-to-day or advisory level with the business after the transaction;
Family members who may want to remain with the company;
Liquidity/value versus income;
Timely transaction and smooth transition;
Employee welfare. We realize that great companies are built by great people, and we are committed to the welfare of the employees and managers who have helped you build your company; and
Continuation of the business.
TRANSACTION TYPES
Crosse Partners recognizes the unique objectives of privately-held, family-owned companies as well as strategic sellers, management teams and entrepreneurs and is in a position to offer creative structures to meet each of their needs.  Approaches most appropriate for a family-owned business can include:
Management Buyout of a Family-Owned Company – Crosse Partners will partner with existing management to lead an acquisition of a business or buyout existing shareholder positions.  We facilitate transactions for business owners who are already retired, want to retire upon closing, or want to transition to retirement over a period of years.  We can provide owners with complete or partial liquidity while ensuring that current management and employees will continue to run the business.
Crosse Partners will partner with family members to purchase ownership positions held by other active or inactive family members or outside shareholders.  Our family succession transactions provide liquidity for departing shareholders and ensure continuity in operational control for family members remaining in managerial positions.
We understand that for most successful business owners, the business is their most substantial asset and the vast majority of their personal net worth.  This concentration of wealth in one asset has its risks in an unpredictable business climate, but is also characterized by limited access to liquidity and having personal assets committed to support the financing needs of the business.  We can structure a transaction that will provide the owners liquidity while retaining a significant ownership (though less than controlling interest) and day-to-day operational involvement.
We will invest with management teams to acquire "non-strategic" or "non-core" divisions or subsidiaries of larger corporations.
Crosse Partners will consider equity investments in companies seeking capital to finance internal growth or acquisitions.
We will partner with experienced management teams to create leading companies in fragmented industries.
DEVELOPMENT AND IMPLEMENTATION OF THE BUSINESS PLAN
We believe the best path to long-term value creation for all stakeholders is through the development of a strong management team and the execution of a well-conceived business plan.
While management is a central component of Crosse Partners' investment philosophy, we understand the dependence upon the shareholders and other challenges and limitations family-owned business face.  Therefore we anticipate developing and/or augmenting an existing management with outstanding people who have proven themselves to be superior leaders and managers as well as possessing the ability, experience, integrity and motivation to succeed.
Because of the importance of management to our investment goals, we expect key individuals to hold a meaningful equity stake in the company as a way of aligning their financial incentives with ours.  This can be accomplished through flexible deal structures and/or creatively structured equity participation to enhance returns to all.
As we work together to develop a broader management infrastructure, Crosse Partners will maintain an active and hands-on relationship, but not day-to-day role, and will be focusing on corporate strategy, financing policy, business and product line acquisitions, marketing opportunities, and other aspects which are critical to the success of the enterprise.
The end goal is to develop a positive working 'chemistry' with a strong, experienced management team that can lead portfolio investments through a development process that increases growth rates, improves operating margins, augments business systems, and broadens product offerings.
EXIT
We are focused on the long-term appreciation of the business and realize that building world-class companies requires time, dedication, and a bit of luck. Ultimately, our exit strategies will be driven by what is most appropriate for a particular business. However, the end result should always be a larger and more stable organization with a proven, equity-oriented management; a developed operating infrastructure; an improved cash flow and financial position; and brighter outlook for the future.
INTERMEDIARIES
Crosse Partners relies on and works closely with intermediaries, including investment bankers and business brokers, as well as accountants, lawyers, consultants, operating executives, individual investors, and other intermediaries to generate deal flow and review investment opportunities.  We value these relationships and we work hard to be considerate, confidential, and responsive. We welcome finder's fee arrangements and pay intermediary or referral fees on originally-sourced transactions that we close.